3M Building Wrap Case Study Presented by Window Film Austin
When the average person sees a building with 3M Building Wrap, they're drawn to its uniqueness and colorful display. But the reality is that building wrap can do so much more than give your Austin business an exterior makeover. This case study reveals how building wrap can help businesses reach consumers and increase profits.
The Situation
The Musical Theatre was a newcomer to the city of Moscow, a city with a long history of being heavily involved in the arts. As a new establishment, the theater needed a way to get word out about their shows and increase awareness of their presence within the community. They had made attempts at using social media and other forms of advertising, but the owners of the theater firmly believed they could reach more people if they advanced their methods.
So they looked into putting a banner up on their building. But they soon encountered several problems. The building was under state protection so the use of a poster or banner on the external facade was prohibited. Even if the theater could somehow bypass this regulation, the preservation and condition of the banners would also be an issue since Moscow's weather is known for being quite fierce in the autumn and the winter.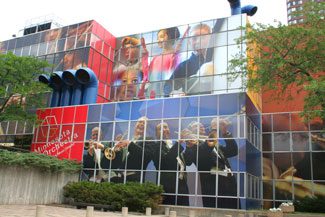 The Solution: 3M Building Wrap
The theater owners decided to partner with 3M to find a solution to their advertising needs. The 3M Commercial Graphics team designed a graphic building wrap specific to the theater. The team custom printed with a high resolution graphic on 3M Scotchcal Texture Wall and applied it directly to the rough exterior surface of the building. The film would be able to stand up to the extreme weather and could promote the theatre without causing any damage to the historic architecture.
The Results
The exterior of the building looks stunning. It's now impossible to venture into this part of Moscow without seeing the 16 foot graphic film. When commenting on the project, the theater's marketing director said, "Both enormous adverts have been in place for nearly two months and the posters still look cool!"
Get 3M Building Wrap for Your Austin Business
Are you current advertising methods working? 3M Building Wrap could be the solution your Austin business needs. Call Window Film Austin today to discuss your options or get more information!