Building Wrap Profit Potential For Austin Commercial Properties
A New Era Of Advertising
Giant wall scape signs that cover entire building sides have shifted the marketing world forever.  This versatile signage reaches consumers where they live work and play and are proving to have a bigger impact on audiences than ever thought before. They are a popular way for advertisers to take their messages to the streets of a busy world. Modern marketers know that this kind of versatile signage reaches more people where other types of marketing can't–where they live, work and play. They are called 3M Building Wraps and their profitable benefits are irrefutable.

Benefits Of Building Wraps
Building wraps have a huge impact on their audience and massive benefits for both the advertisers and for the commercial building owner who leases their buildings window and wall space. The benefits listed below illustrate just how far-reaching they are.
For Advertisers:
Are highly visible from great distances
Are unique and cutting-edge
Hit audiences where they live work and play
For Commercial Building Owners:
Monetizing the exterior of your building dramatically increases revenue
Potential for return business from wrap buyer-meaning more profit
All the benefits of traditional window film for your building's occupants
Helps your building stand out to the public and be remembered.
What Are Building Wraps?
3M building wraps are a form of window film with bold large format graphics printed on it. The wrap is placed over the entire outside of a building, transforming the exterior into an ultra-vivid billboard. These impressive advertisements that can be a crucial part of a major product launch or promotion There are no limits to what kind of building 3M wraps can be applied to; textured surfaces like brick or stucco, as well as smooth glass and concrete, are all viable options. Best of all, the occupants of the buildings are still able to see clearly out the windows and enjoy all the benefits of traditional window tinting as well. Once the promotion is finished, the wraps are easily removed by a 3M building wrap contractor like Austin Window Film.
Austin's Building Wrap Experts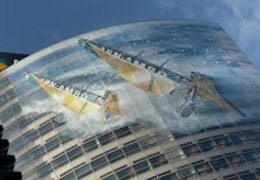 The key to a building wrap success is having an experienced professional like Austin Window Film to install it correctly. We are a trusted 3M partner and able to work with both advertiser and building owner for a seamless install. If are an advertiser looking for a location for a 3M building wrap or a large commercial building looking to lease space, contact us at Austin Window Film with questions or to schedule a free consultation today!