Cloaking Film for Your Austin Home or Office
Window Film Austin is excited to announce that we will now be carrying a new type of privacy window film. This revolutionary product, called cloaking film, actually "cloaks" or rather hides your tv display to those looking in from outside of the room. Both stylish and affordable, cloaking film is the perfect privacy film for Austin homes, offices, and commercial buildings alike.
What Is Cloaking Film?
Cloaking film works a smart shield that ensures screen viewing privacy. It's engineered to block out most LED displays. It prevents outsiders from seeing what's on your TV screen, offering both privacy and peace of mind. And it does so without covering up your glass walls or windows completely.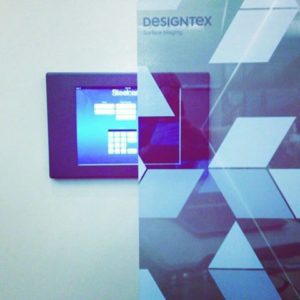 How It Works
The cloaking technology is installed on the inside of the room containing the TV screen. It can be used on its own or can be combined with a patterned or graphic option for a cool, sophisticated appearance. It's the only window film of its kind and is quickly becoming popular among building designers and architects.
Cloaking Film for Austin Homes
Cloaking film can be installed in your home to prevent strangers, passersby, or guests from seeing your TV screen. It's great for bedroom windows, doors or windows looking out over the yard, and street facing windows. With cloaking film, you can feel confident knowing that what's on your display is your business and your business alone.
Cloaking Film for Austin Businesses
Give your conference rooms, meeting rooms, or team studios an extra level of privacy with cloaking film. Cloaking film prevents those outside the room from seeing sensitive data or information on your display. It allows you to discuss important matters freely in meetings or huddles without compromising the open, welcoming look of your office.
Get More Information
Curious about cloaking film? Give Window Film Austin a call! We would be more than happy to provide you with additional information or give you an estimate for your project.