A New Anti Graffiti Film in Austin, The Metal Shield Stainless Steel
The physical appearance of your building is important for many reasons. When your customers and clients enter your commercial building, they form an opinion about the trustworthiness and reliably of your products or services. The way that your office or building looks is also a symbol of the financial well-being of your company. And, there's also a lot to be said about how it influences the perception others have of the level of professionalism of your company.
That's why it's important that you protect your building from vandalism, graffiti, and other damage. Anti graffiti film for Austin commercial businesses can help protect the metal, stainless steel, and other hard surfaces of your building. What's anti graffiti film, you ask? Anti graffiti film is a virtually undetectable thin adhesive film which looks just like metal that can be applied to hard, metallic surfaces to protect them against scratching, etching, and other vandalism.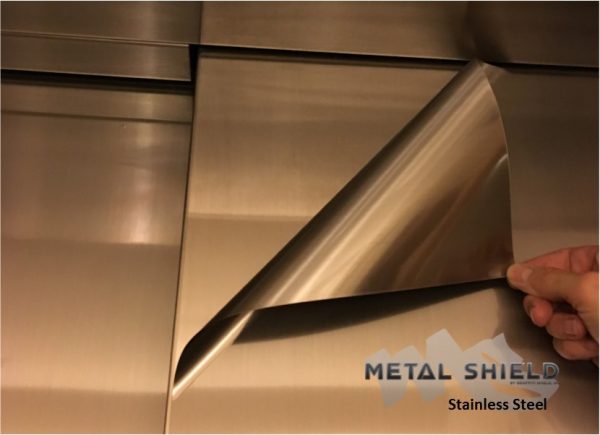 Announcing the Newest Anti Graffiti Film Product
Graffiti Shield has just released a new anti graffiti film in Austin, the The Metal Shield Stainless Steel 6-Mil. This film is the latest product for the ultimate level of anti graffiti protection. It perfectly matches the appearance of almost all existing elevators and escalators in the marketplace.
This graffiti film is available in 25' increments or at a roll size of 60"x100'. It features amazing benefits such as acid resistance and a removable adhesive system. If the film becomes damaged, it can be simply be professionally removed and easily replaced.
Anti Graffiti Film Can Be Placed on Virtually Any Surface
Anti graffiti film for Austin businesses is used for a wide range of applications and can be customized to fit practically any metal or stainless steel surface. Cover up existing damage or protect the future of your building's appearance by using it for:
Elevator cabs and doors
Advertising media
Escalator sides and surrounds
Restroom partitions
Public transit
Bus shelters
Ticket vending machines
Restaurants
Movie theaters
Schools
Theme parks
Malls
Hospitals
Protect Your Business from Graffiti
Replacement costs for vandalism can be expensive. Don't wait for a worst case scenario. Contact the experts at Window Film Austin for anti graffiti film for your Austin business.