Window Film Austin: Proud Installer of 3M Window Films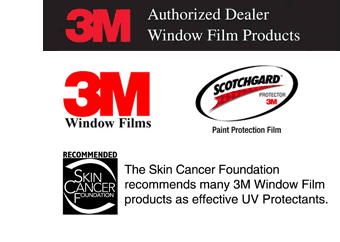 One thing Texan's are not short on is pride. We love our state, cities, and sports team and we have no shame proclaiming that to the world. It should be no surprise then, that Window Film Austin is bursting with pride, not only in the great state of Texas where we hang our proverbial hats, but also in the superior 3m film products that we use every day for our window tint applications.
The 3M Window Film Difference
Beyond the obvious fact that 3M invented window films 50 years ago, is the lesser known fact that they have spent the last handful of decades improving upon their invention. 3M works hard to deliver a quality product that will last decades for both commercial and residential window tint applications, meaning Window Film Austin can install your window film with confidence. 3M window films have numerous applications including, auto glass tint, security glass film, decorative glass film, commercial window tint and residential window film. Every application that 3M designs film is used for is durable and equipped to stand the test of time.

Window Film Austin: Austin's Window Film Expert
Standing in the shadow of such a well-respected brand like 3M is no easy task but it is one that Window Film Austin is up for. We pride ourselves in our commitment to excellence and breadth of experience. We have installed tens of thousands of feet of window film with no end in sight. We take just as much pride in being a contributing member of the Austin community as we do in our work and our fine 3M products. All of this translates to the very best experience for our clients. Additionally, it means peace of mind for our window tint customers because they know we have a reputation to uphold in the market. When making an investment in window film, it is important to go with proven leaders in the industry like Window Film of Austin and 3M.
Contact us
today for a free estimate and to see the difference experience and a deep sense of pride and confidence in one's product line makes.