A Wide Range of Window Film Options for Dripping Springs Homes and Businesses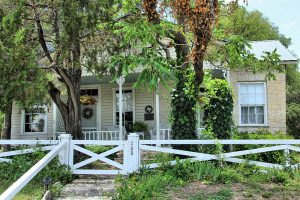 Window Film Austin is proud to serve the residents and business owners of Dripping Springs. Our expert installers are always happy to make the scenic drive out to this beautiful part of the Texas Hills Country. We offer both residential and commercial window tinting installation services that can improve the design and efficiency of your building. We'd like to invite you to review the information below to learn more about how window tinting can benefit your Dripping Springs home or commercial business.
Commercial Window Tinting in Dripping Springs
Most people know that if they plan on visiting Austin, they need to also schedule in some time to check out Dripping Springs. People travel for miles around to check out this scenic countryside. And all of this tourist traffic is great for your business. So you're always looking for new and creative ways to advertise your products or services. Decorative window film can help attract tourists to your Dripping Springs brewery, restaurant, or retail store. In addition, we also offer many other commercial window films for Dripping Springs businesses. Enjoy major benefits like energy savings, climate control, and increased security. Whether you manage a small office, government building, or cafe, we have a solution that's perfect for you!
Window Tinting for Dripping Springs Homes
Due to its geographic location, Dripping Springs tends to receive a little bit more rain than the rest of Texas. While this means that residents get to enjoy beautiful rolling green hills and babbling brooks, it also means living in and dealing with humidity. But climate control window film can help make your Dripping Springs more comfortable for you and your family. It works to keep out unwanted heat during the summer and increases the efficiency of your HVAC system. Stay cool indoors and enjoy year round energy savings with this amazing residential window film. Or, if privacy and security are a concern for your family, we can help with that as well. Call us today to get more information about all of our residential window tinting products!
Window Film Installation in Dripping Springs
Interested in learning more about the benefits of window film for your place in Dripping Springs? Call us today to schedule a consultation. We'd love to work with you on your next home or business improvement project!