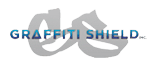 Damage from vandalism could cost you hundreds of dollars. That's why Window Film Austin offers anti-graffiti products from Graffiti Shield to help defend your building against criminal acts. Graffiti Shield films are designed to cover up building surfaces that have been tagged or vandalized and provide defense against future damage. Each film looks identical to the surface on which it's applied for a virtually undetectable appearance. And if the surface becomes tagged in the future, the film can be easily removed and replaced by a professional for a renewed appearance.
Metal Shield
Metal Shield is an incredibly durable film that's designed to offer anti-graffiti protection to aluminum, stainless steel, and metal surfaces. It can cover up existing graffiti and also defend underlying surfaces from potential damage. It's perfect for applying to signs, elevators, escalators, public restrooms, transit systems, and more for defense against vandalism.
Glass Shield
Window replacement is expensive. That's why there's nothing more unsettling for a business owner than the emergence of graffiti on glass surfaces. Glass Shield can help protect the glass doors and windows of your building against tagging and glass etching. Some useful applications of Glass Shield include elevators, public map display cases, fuel pumps, restroom mirrors, and more.
Mirror Shield
Restrooms are a common target for vandalism. They're private and secluded, which means that vandals think they are less likely to get caught tagging these areas. Mirror Shield can protect your bathrooms from being damaged by acid etching and corrosion. It's also useful for mirrors in hotel lobbies, retail stores, elevators, and other secluded areas.
Custom Shield
Not every situation benefits from a one size fits all approach. That's why we also offer Graffiti Shield's Custom Shield for projects that have unique needs. Custom Shield can mimic the appearance of virtually any surface to offer all the same benefits of anti-graffiti film. In the past, we've applied Custom Shield to train and bus interiors, window frames, powder coated surfaces, metal cladded buildings, and other surfaces.