How Mirror Shield Can Save Austin Hotel & Restaurant Owners Money on Repairing Tagged Bathroom Mirrors
With a thriving culinary and entertainment scene, Austin is a great place to set up a hotel or restaurant. However, as with any business, there are always unexpected challenges in the hospitality industry. Whether you own a small cafe downtown on 6th Street or manage a sprawling resort along the scenic shores of Barton Creek, your business is always exposed to one persistent and rather annoying threat: property crime.

Have a Graffiti Problem, Austin?
All too often restaurant and hotel bathrooms become victims of thoughtless graffiti. Teenagers sneak into these areas and tag up or spray paint the mirrors and other glass and metal surfaces because they're completely out of sight and are at low risk to getting caught.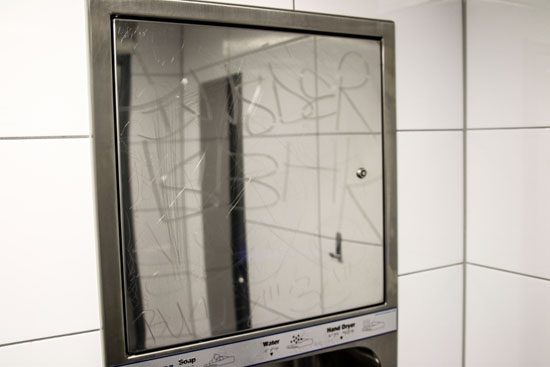 The Cost of Graffiti for Austin Hotel & Restaurant Owners
The presence of graffiti in your business can make it look unclean and unprofessional. So of course you have to get rid of it in order to save your reputation and keep your revenue from dropping. But repairing or replacing mirrors that are damaged by graffiti can be an overwhelmingly expensive ordeal. It's not an exactly a loss you want to incur when you're first starting out your business.
Outsmart Vandalism with Mirror Shield
Luckily, there's a solution to damage caused by graffiti: Mirror Shield. Created by the expert and forward thinking minds at Graffiti Shield, Mirror Shield is a highly durable film that's designed to cover up graffiti and prevent against future damage.
An Innovative Solution to Graffiti
It has the same reflective appearance of a normal mirror, is virtually undetectable, and can only be removed by a professional. Once applied, if your bathroom mirrors become tagged in the future, Mirror Shield protects the underlying surface and can be replaced to recreate a clean, brand new appearance.
Take a Proactive Approach
Why waste money on expensive repairs when you can resolve the issue of graffiti in a cost-effective and proactive manner? Mirror Shield could save your Austin hotel or restaurant hundreds of dollars on bathroom renovations.
Install Mirror Shield for Your Austin Hotel or Restaurant
Don't let your business become victim to senseless property crimes. Call Window Film Austin today to install Mirror Shield for your Austin hotel, restaurant, or commercial business.