How Austin Area Hospitals Can Use Window Film to Improve Patient Health & Safety
As a hospital, your top priority is the well being of your patients. But how can you guarantee that your patients are kept safe and comfortable at all hours of the day? Window film offers a low cost solution to keep your Austin hospital safe and comfortable and protect the health and happiness of your patients. At Window Film Austin, we carry a wide selection of window tinting products that are perfect for all types of health care centers including hospitals, clinics, doctors offices, and more.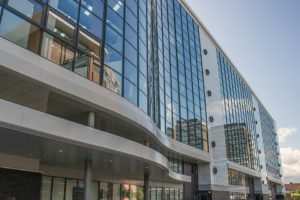 Occupant Comfort
Keep your patients comfortable regardless of the outdoor weather with climate control window film. Climate control window film regulates the amount of heat that can be transferred through the glass surfaces of your building. This helps to keep the temperature of your building and individual patient rooms more stable and comfortable. And with climate control film, your facility could save up to 30% on energy expenditures.
Patient Privacy
Protect the privacy of your patients with privacy or decorative window film. Window film can be custom printed in any design or style that you desire to achieve the look and privacy that you need for your healthcare facility. Apply privacy film to lobby areas, individual patient rooms, or staff meeting rooms to create a more secluded and comfortable space for occupants and employees.
Radiation Blocking
Prevent UV and EMF radiation from entering your building with radiation blocking window film. Radiation blocking window film protects your patients from uv radiation that causes numerous health diseases such as skin cancer, eye damage, and premature aging. And many of our window films also have a proven shielding effectiveness against RF frequencies as well. Call us today to learn more about our radiation blocking film products.
Safety & Security
Ward off vandals, intruders, and other dangerous situations with safety and security film for your healthcare facility. Security window film holds broken glass in place and prevents damage to buildings and occupants. At Window Film Austin, we carry a wide selection of safety and security films that are perfect for hospitals. From anti graffiti protection to bomb blast defense, our security films have got you covered.
Window Film for Austin Hospitals
Get an estimate on window film for your Austin area hospital or healthcare facility. Call Window Film Austin for a free quote on professional window film installation. One of our experienced technicians will help you find the perfect film to help keep your patients safe and comfortable and save money for your business. Call now for an estimate.